Roccat Syn Pro Air Next-level 3D audio performance, wireless freedom, & memory foam padding
FEATURES
• Live longer and play better with Superhuman Hearing®
• Immersive 3D audio with 50mm drivers
• Rapid charge via USB-C
• Memory foam ProSpecs™ earpads and headband
• Breathable athletic fabric wicks moisture away
• Lay-flat yokes for easy stowing
• Detachable flip-to-mute TruSpeak™ mic
• AIMO-compatible16.8 million color lighting
• 2-year manufacturer warranty
• Powered by Neon™
Performance without limits
The Syn Pro Air is ideal for gamers who want next-generation audio performance and wireless freedom without compromise. The first ROCCAT headset to feature 3D audio, the new technology lets you hear from all angles for unrivaled advantage. Stellar Wireless technology allows for 24 hours of continuous use off a single charge.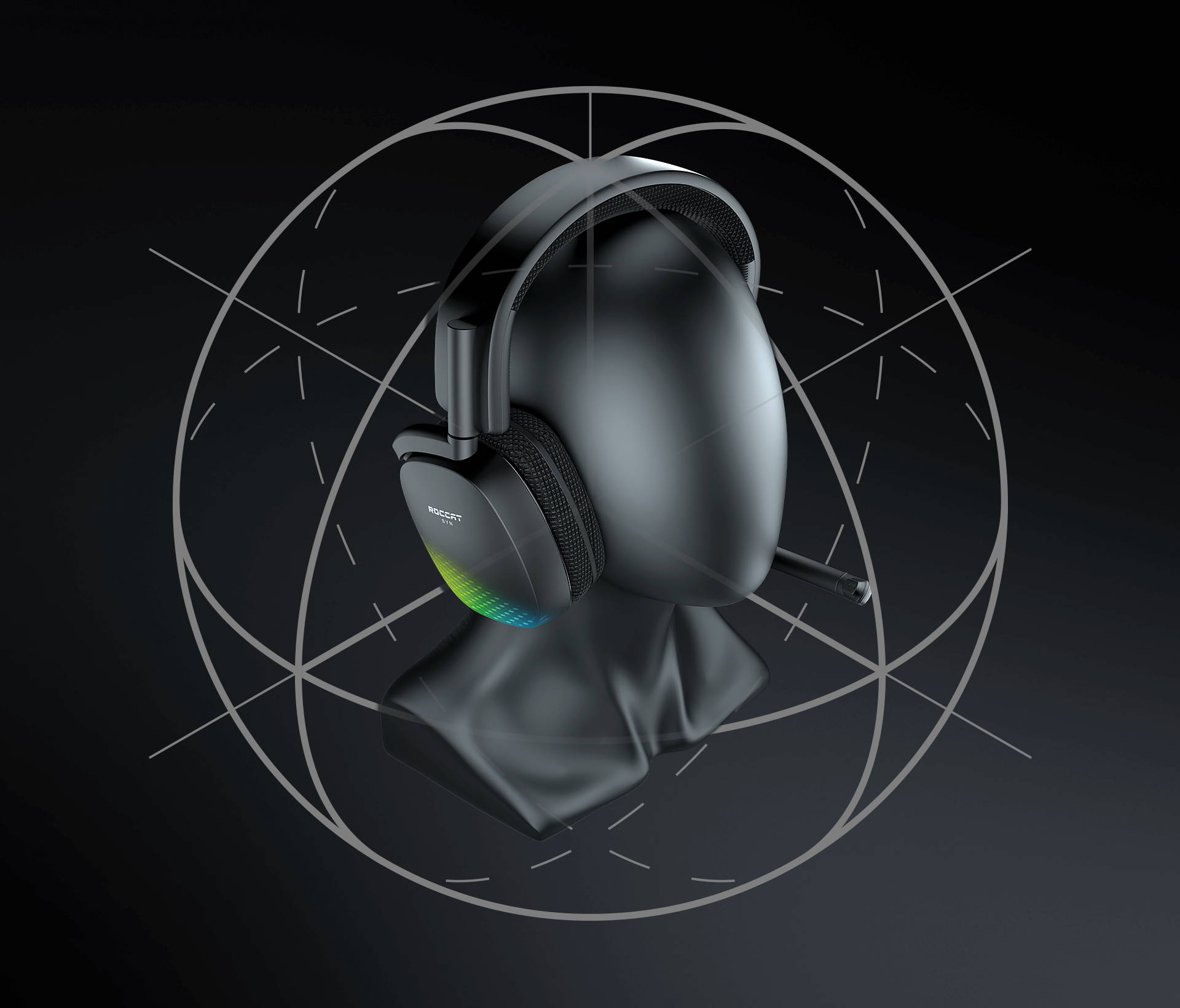 IMMERSIVE 3D AUDIO
3D audio is developed to push the boundaries of traditional surround sound. It introduces a third dimension to allow you to hear not only from all directions around you, but also from above and below. Powered by 50mm Nanoclear™ drivers from Turtle Beach, it puts you at the center of your gaming experience for greater immersion and delivers a powerful competitive advantage.
Turn on Superhuman Hearing to boost critical in-game sounds such as footsteps and reloads for an extra edge.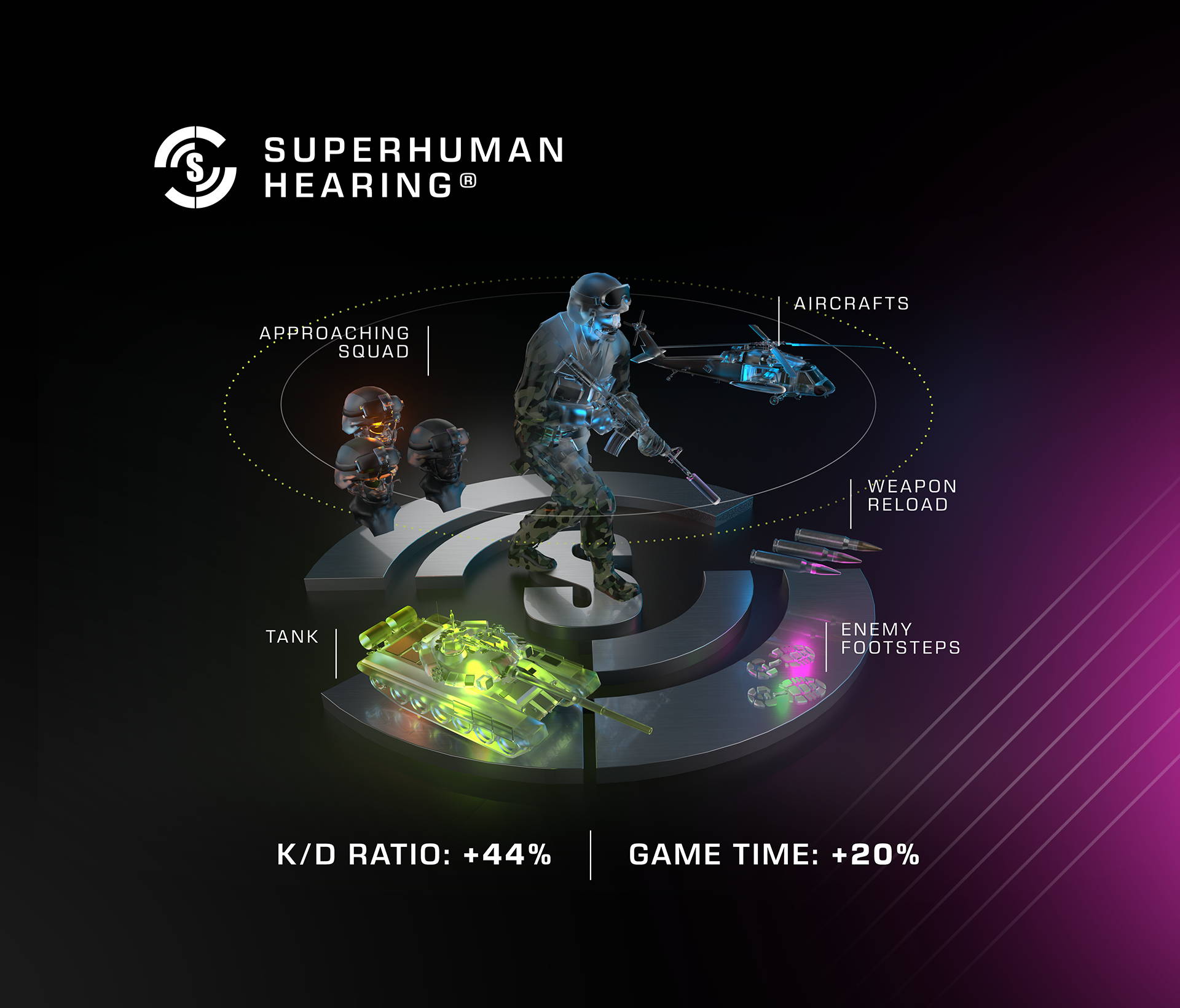 SUPERHUMAN HEARING®… PROVEN TO BOOST YOUR PERFORMANCE*
Tested on over 100 gamers, Turtle Beach® exclusive Superhuman Hearing® sound setting lets you hear subtle, game-changing sounds so you can live up to 20% longer and win more. Hear vital game details like enemy footsteps and weapon reloads to elevate your game above the rest, proven to lift gamers' K/D by over 40% on popular FPS games.
*Data based on Turtle Beach Superhuman Hearing® study conducted by Real Industry, May 2021.
STELLAR WIRELESS TECHNOLOGY
Exceptional signal strength equips you with the speed and reliability of wired combined with the freedom of wireless. Thanks to long-life batteries that last 24 hours off a single charge – a week of play for the average gamer – you can focus on gaming without the need for continuous charging. And for those times you forget? USB-C rapid charge gets you back in the action without delay – with 15 minutes charge giving you 5 hours of battery life.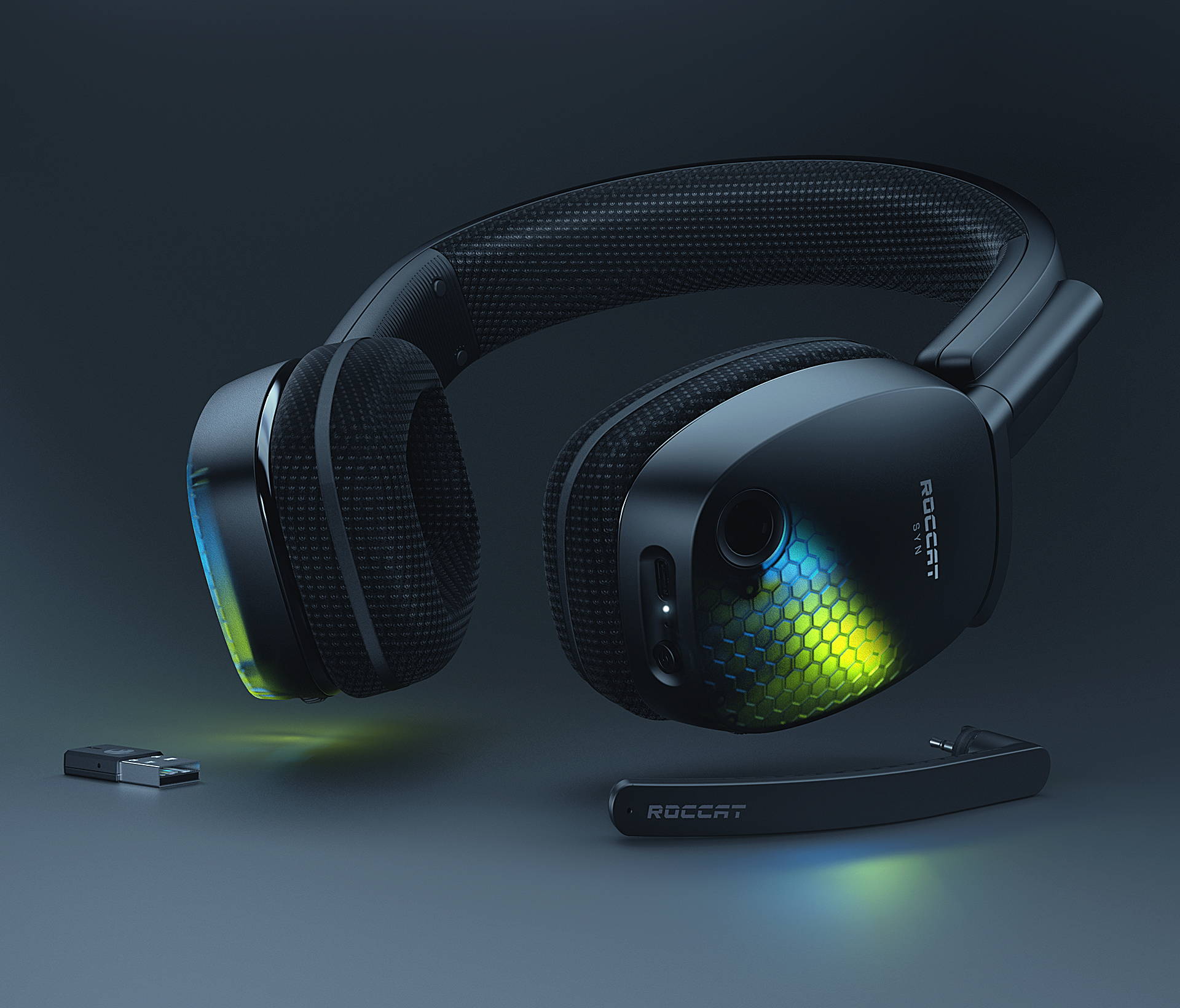 UNMATCHED BUILD QUALITY
Advanced materials allow for a build that is impressively robust considering its light weight. ProSpecs™ earpads are glasses compatible and – together with the perfect-fit headband – feature memory foam for guaranteed comfort. The athletic fabric is breathable and has moisture-wicking properties to keep heat and sweat at bay.
ATTENTION TO DETAIL
Engineered to provide gamers with every possible convenience. Includes intuitive on-ear audio controls for easy sound adjustment on the fly. Lay-flat yokes and a detachable flip-to-mute TruSpeak™ mic provide great versatility for streamers and gamers who travel.
AIMO ILLUMINATION
16.8 million color lighting fully compatible within the AIMO eco-system. Synergizes with other AIMO-compatible devices to present vivid lighting scenarios right out of the box, without the need for extensive configuration. The Syn Pro Air's ROCCAT Bionic Shell sets the stage for a unique AIMO showcase.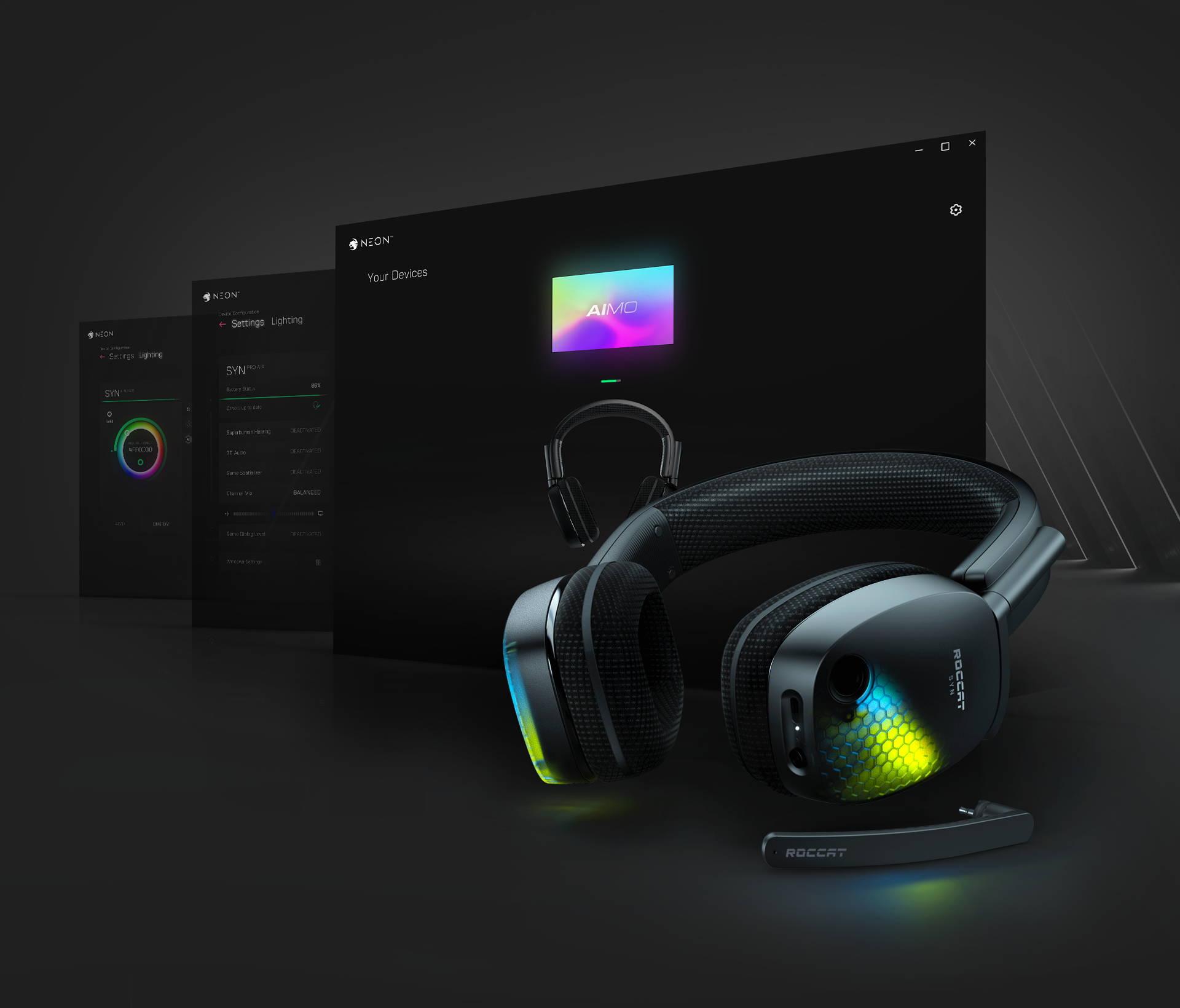 POWERED BY NEON™
The new driver software from ROCCAT® that gives you a single modern, sleek destination to configure and optimize supported ROCCAT® devices.


TECHNICAL SPECS
General
Direct wireless connection via USB-A transmitter
2.4GHz transmitter frequency response
Audio controls: power button, master volume wheel, mic mute, mic monitor wheel
Rechargeable 24h battery (average 1+ week play time based on typical ~3h use per day)
Removable unidirectional microphone
Athletic fabric headband with foam cushioning
Over-ear design featuring memory foam
390g weight
Driver Unit
20Hz – 20kHz speaker frequency response
50mm speakers with neodymium magnets
Compatibility
Windows® 10 & 11 (software support)
USB 2.0 (or higher)
Internet connection (for driver software)
PlayStation® 5*
*Master volume control not supported from the headset. To adjust, Press the PS button > select Sound > go to Headphones, and change the master volume from there.
Nintendo Switch*
*Nintendo Switch wireless compatibility supported through USB connection while in docked mode only. Chat available for games that support in-game chat capability.
What's in the box
ROCCAT® Syn Pro Air ‒ Wireless 3D Audio RGB Gaming Headset
Removable microphone
USB-C charging cable
USB-C adapter
USB-A transmitter
Quick-start guide