Roccat Kone Pro Air Black
FEATURES
• Iconic ergonomic shape refined to perfection
• Stellar Wireless + Bluetooth, with Rapid Charge
• Extreme lightweight ROCCAT® Bionic Shell – only 75g
• Titan Switch Optical. Tactile & Fast
• PhantomFlex™ USB-C charging cable virtually disappears
• Heat-treated pure PTFE glides, pre-tuned for a smoother motion
• ROCCAT® Owl-Eye 19K DPI optical sensor
• 2-year limited manufacturer warranty
• NVIDIA Reflex verified
FEEL IS FLOW
Meet the ROCCAT® Kone Pro Air Ergonomic Optical Performance Wireless Gaming Mouse with RGB Lighting, the first ever wireless Kone. Perfected through 14 years of craftmanship, at just 75g the Kone Pro Air is lightweight, comfortable and advanced. It utilizes the Titan Switch Optical, AIMO RGB lighting, our 19K DPI Owl-Eye Sensor, USB-C PhantomFlex™ charging cable and heat-treated glides.
STELLAR WIRELESS + BLUETOOTH
The Kone Pro Air's dual wireless system allows you to switch between fast and reliable 2.4GHz for gaming, and Bluetooth for productivity. Enjoy 100+ hours of battery life when fully charged. Our Rapid Charge technology gives you 5 hours of play time with just 10 minutes of charging.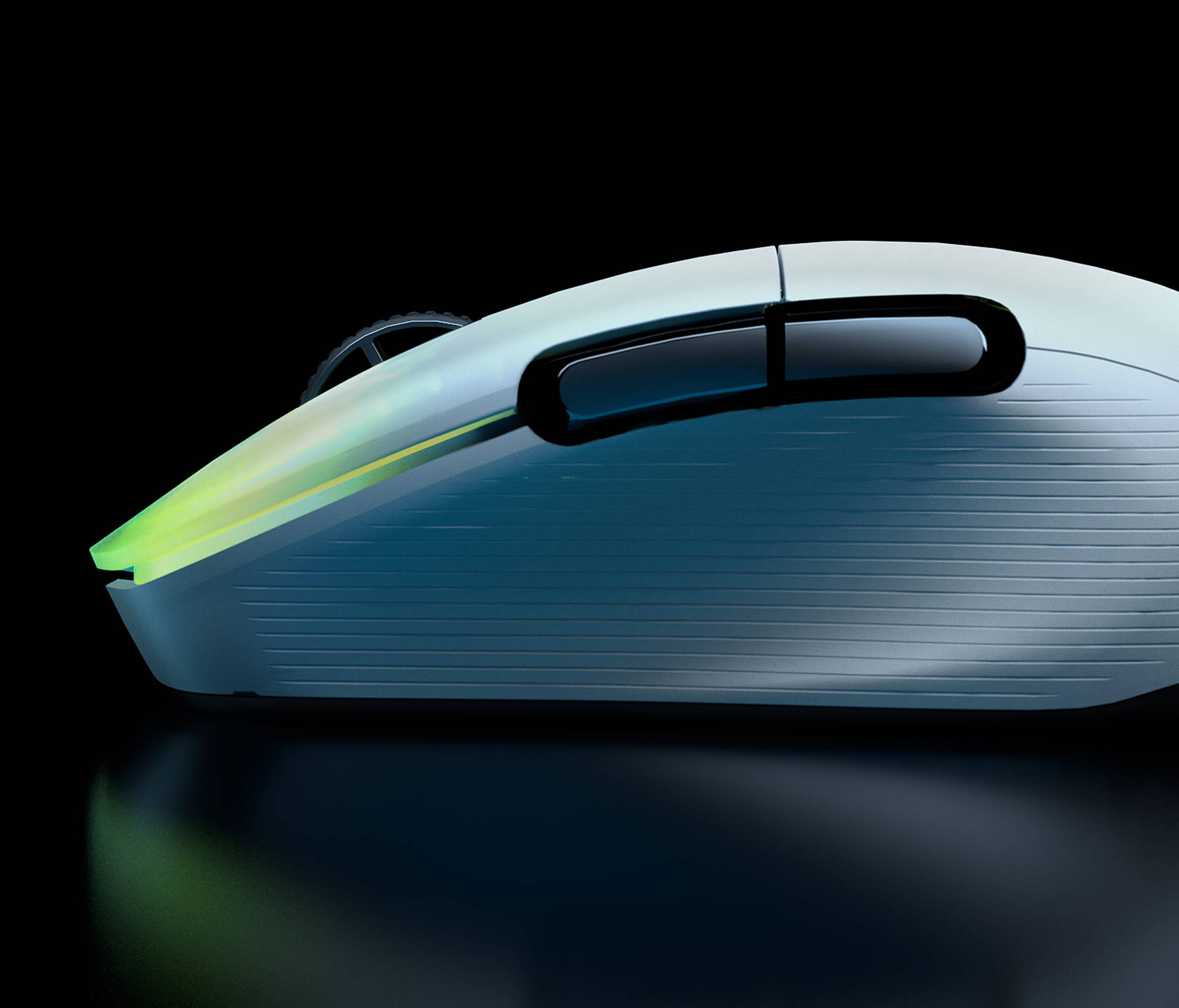 THE ICON, PERFECTED
The Kone's ergonomic shape has always been adored by gamers worldwide, and in the Kone Pro Air, it's been refined to perfection. Meticulous anthropometric research informed dozens of subtle changes, making the Kone Pro Air undeniably comfortable and a joy to use for almost any hand size or grip style.
TITAN SWITCH OPTICAL
Providing a tactile and responsive click, with speed-of-light actuation for unprecedented speed and precision. It's faster than any mechanical switch and has twice the durability, giving you the competitive edge game after game.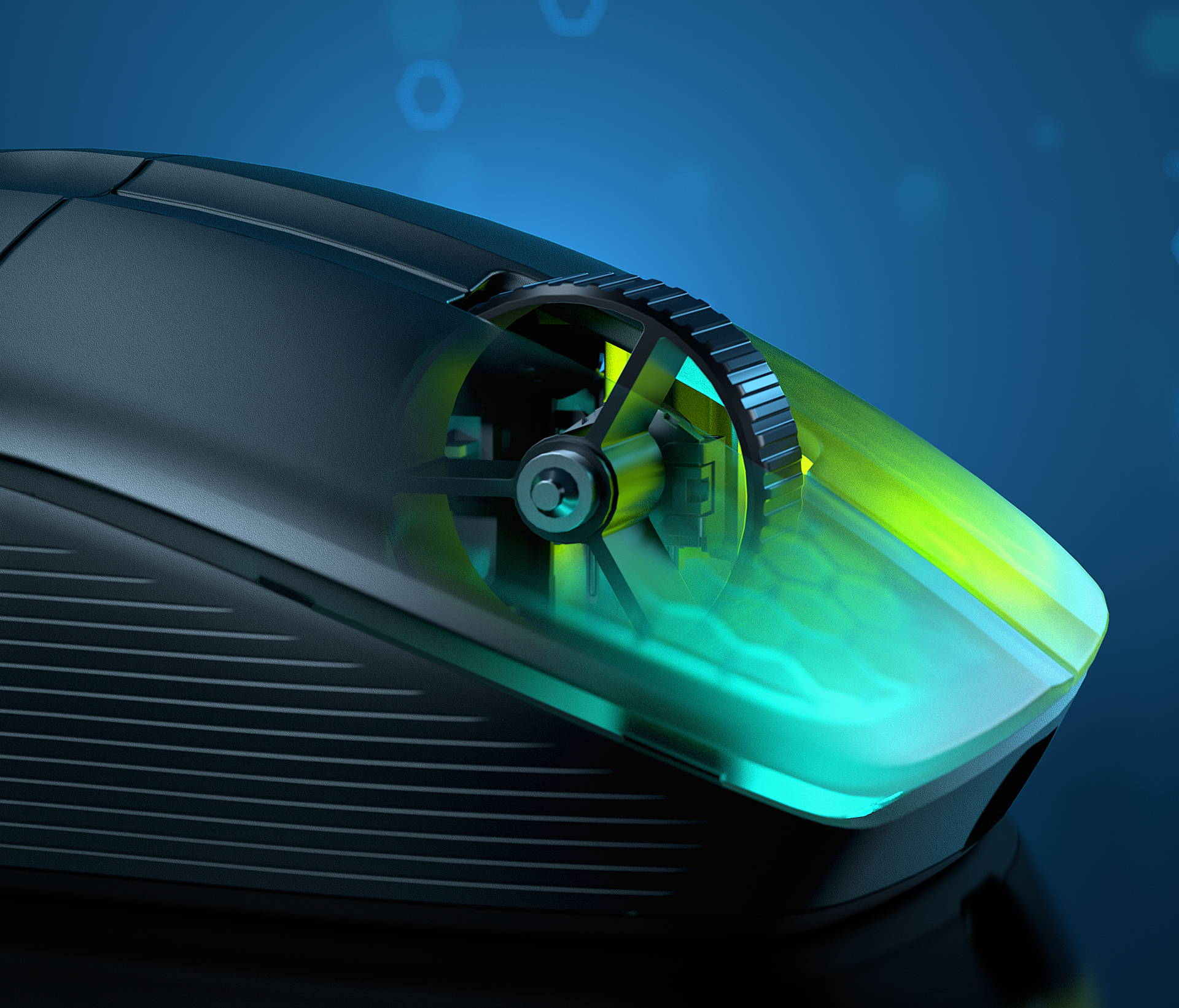 TITAN WHEEL PRO
Milled from solid aluminium, the Titan Wheel Pro is another marvel of ROCCAT's precision engineering. Lightweight yet strong, the Titan Wheel Pro has a satisfying scroll and tactile click. The alloy quickly adapts to your finger temperature making it remarkably comfortable and immersive.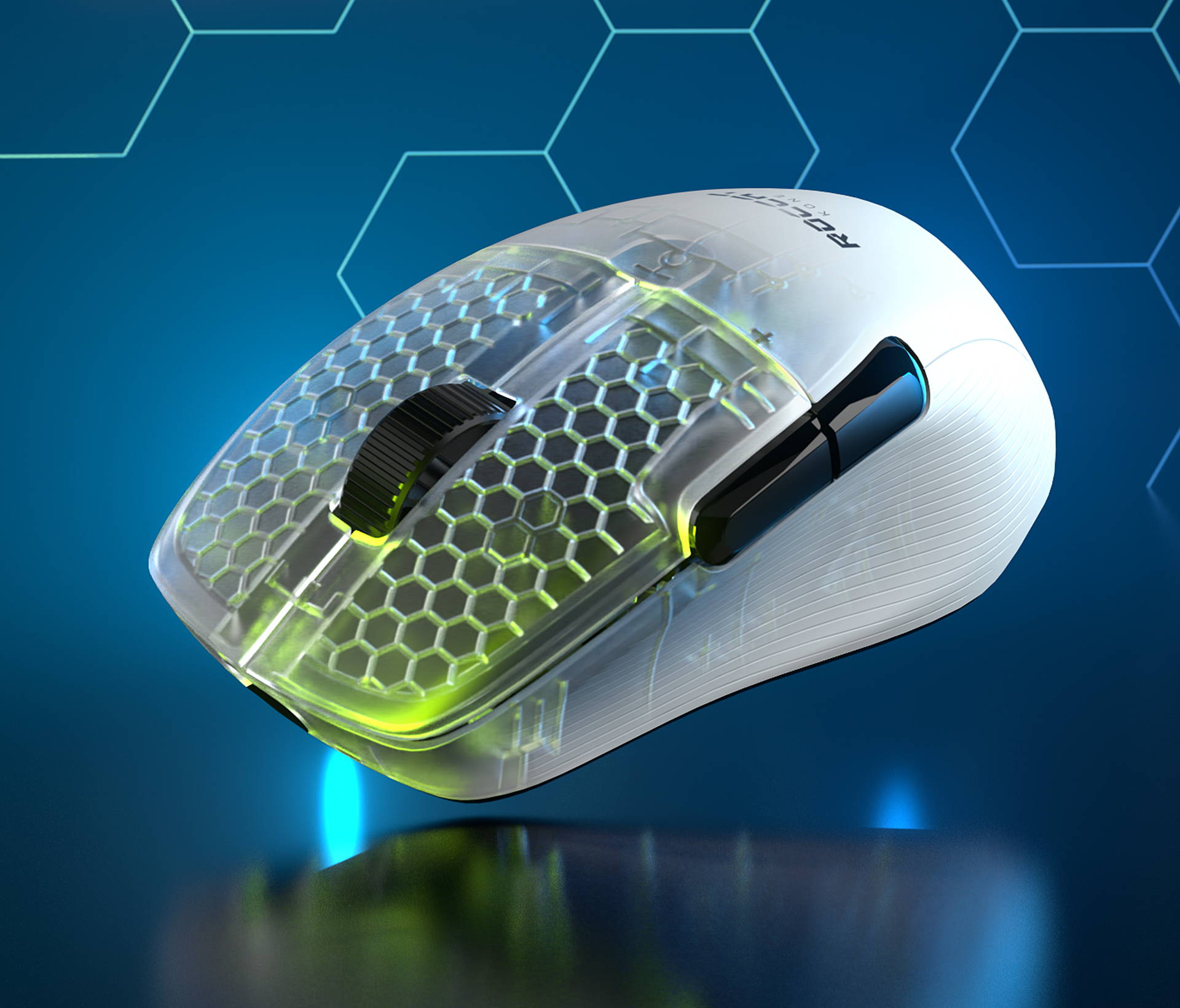 ROCCAT® BIONIC SHELL
The Kone Pro Air's solid yet light honeycomb shell keeps out unwanted dust and dirt, whilst providing an extreme lightweight of just 75g. The translucent fade on the main clicks, provide the perfect showcase for vivid AIMO 16.8 million color RGB lighting.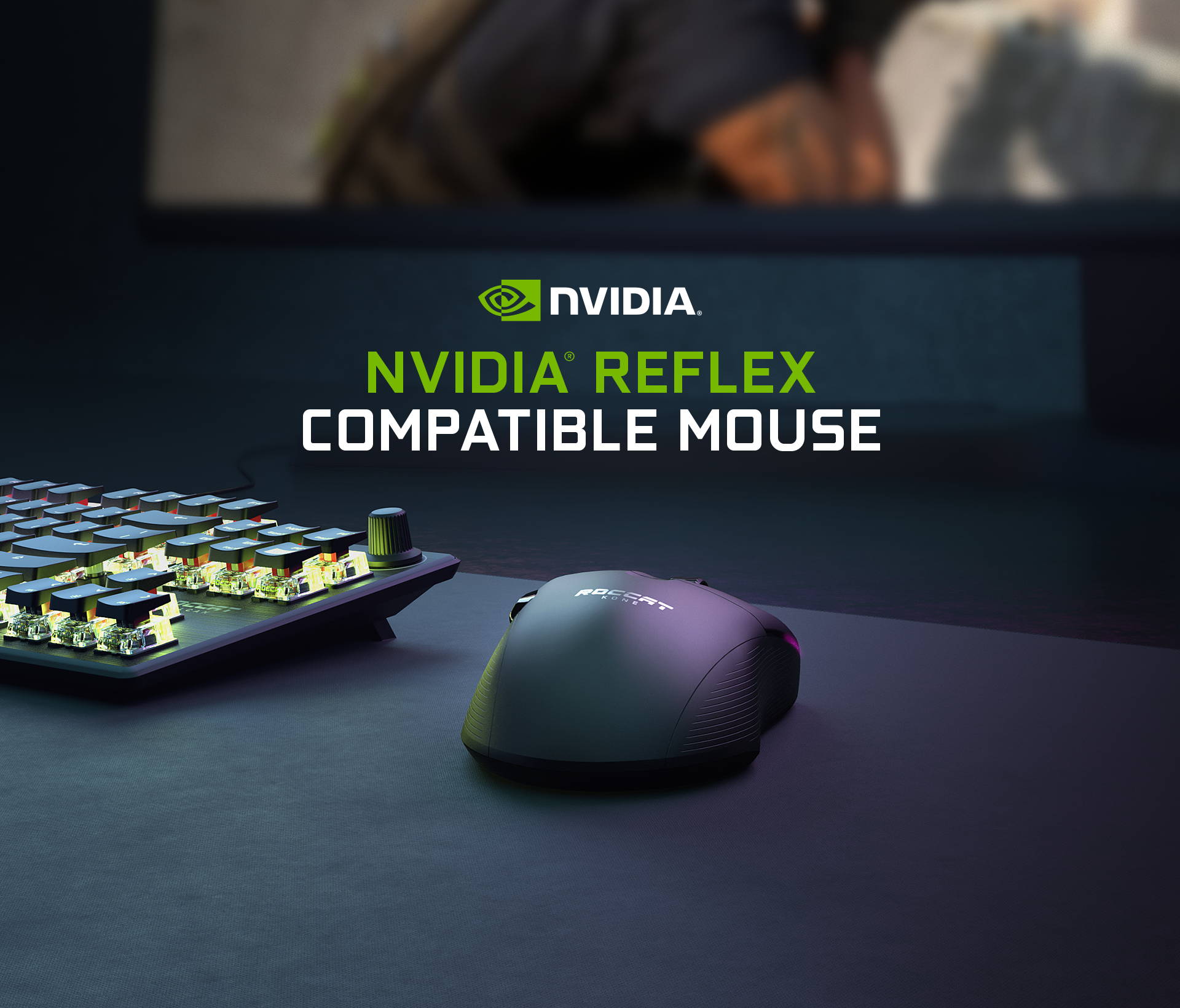 NVIDIA REFLEX VERIFIED
Unleash the full potential of your Kone Pro Air with NVIDIA Reflex for the ultimate competitive advantage. Powered by GeForce RTX™ 30 Series GPUs and NVIDIA® G-SYNC® monitors, NVIDIA Reflex delivers the lowest possible latencies with sub-25 millsecond response times. The Kone Pro Air is NVIDIA Reflex verified to help you acquire targets faster, react quicker and increase aim precision.
GRIP STYLES
The Kone Pro Air's refined design and ergonomic shape mean it comfortably supports any grip style.




PHANTOMFLEX™ CHARGING CABLE & HEAT-TREATED GLIDES
Running low on battery? Connect the PhantomFlex™ charging cable for a near wireless experience while you quickly refuel with our Rapid Charge technology. Also featuring heat-treated pure PTFE glides. They're pre-trained to make them smooth and ready for action right out of the box.
TECHNICAL SPECS
Sensor
ROCCAT® Owl-Eye 19K optical sensor
(Based on PAW3370)
Adjustable lift-off distance
50g acceleration
General
ROCCAT® Titan Switch Optical
100 million click life cycle
On-board memory
1.8m flexible cable
Dimensions
Length: 125.6mm
Height: 40mm
Width: 72mm
Weight: 75g
Compatibility
Windows® 7, 8, 10 & 11 (software support)
USB 2.0 (or higher)
Internet connection (for driver software)
What's in the box
ROCCAT® Kone Pro Air (Ash Black) / (Arctic White)
PhantomFlex™ USB-C charging cable
Wireless Dongle
Quick-start guide