Asus ROG Strix LC II 280 ARGB All-In-One Liquid CPU Cooler
ROG Strix LC II 280 ARGB all-in-one liquid CPU cooler with Aura Sync, Intel®LGA1700/1200/1150/1151/1152/1155/1156/2011/2011-3/2066 and AMD AM4/TR4 support and dual ROG 140 mm addressable RGB radiator fans
FEATURES
Seventh Gen Asetek pump delivers exceptional cooling and minimal noise with an operating range starting at 840 rpm.
ROG Axial-tech radiator fans provide optimized airflow and static pressure.
Individually addressable RGB lighting on the NCVM-coated pump cover and the radiator fans conveys a sleek, modern design.
Aesthetic perfectly complements ROG motherboards to bring out the best of your build from center stage.
Reinforced, sleeved tubing offers increased durability.
ROG Strix LC II 280 ARGB AIO delivers high-performance CPU liquid cooling with sleek, modern aesthetics. Featuring a closed-loop design and ARGB radiator fans, the cooler unleashes the full potential of an Intel® or AMD CPU while further accentuating your build with brilliant multi-color lighting effects. With the cooling you expect from ROG, Strix LC II 280 ARGB is ready to become an essential part of your rig and light it up with your own unique style.
NEXT-LEVEL CUSTOMIZATION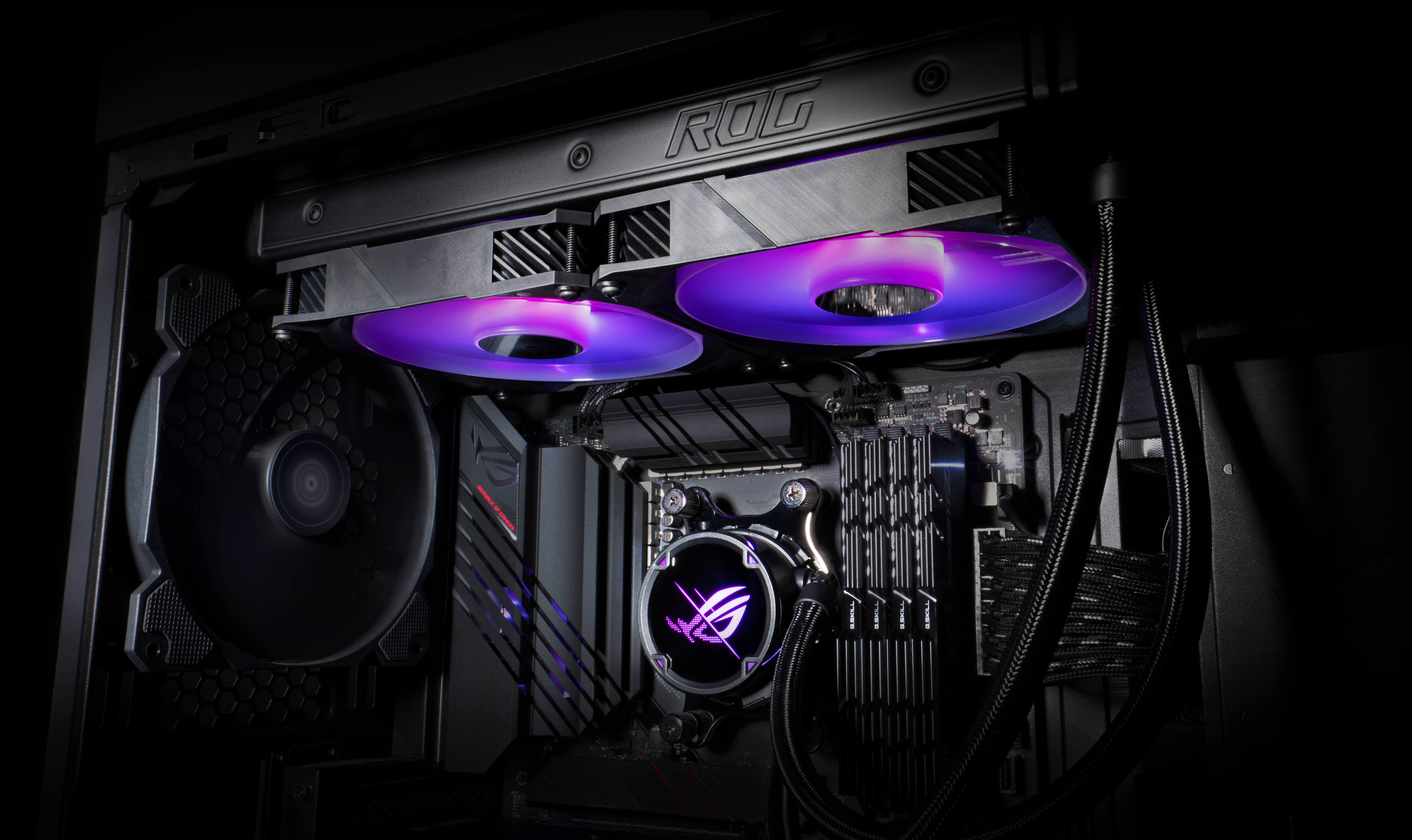 Emanate Your Style
Intricate new designs on ROG Strix LC II 280 ARGB showcase the iconic ROG aesthetic, and every detail shines with the spirit of Strix. Aura Sync support on the pump cover's new illuminated ROG logo and ARGB radiator fans allows you to coordinate lighting effects with ROG build components — and show off your personal style. Also, engraved ROG lettering on the radiator's side complements the iridescent lettering on the hubs of each fan.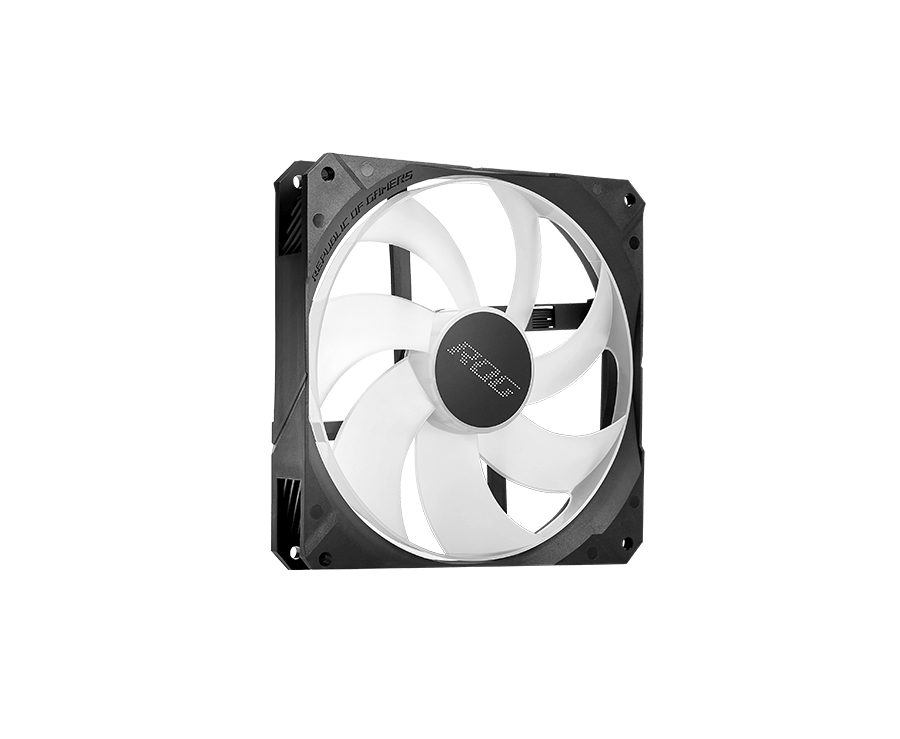 Optimized Fan Design
The ROG radiator fans are specifically tuned to deliver optimum performance on ROG Strix LC II series radiators. The fans generate 102.3 cfm / 3.1 mmH2O for exceptional cooling efficiency.
Enhanced Pump Design
ROG Strix LC II series​ is equipped with the latest cooling-plate design, which features micro-channels that provide greater surface area for thermal dissipation of CPU heat. This innovative feature reduces thermal resistance, delivering more efficient performance and cooler temperatures.
Precise 4-pin PWM Pump Control
With 4-pin PWM control for both the pump and radiator fans, ROG Strix LC II series delivers precise speed control for the optimal balance of performance and acoustics in every scenario.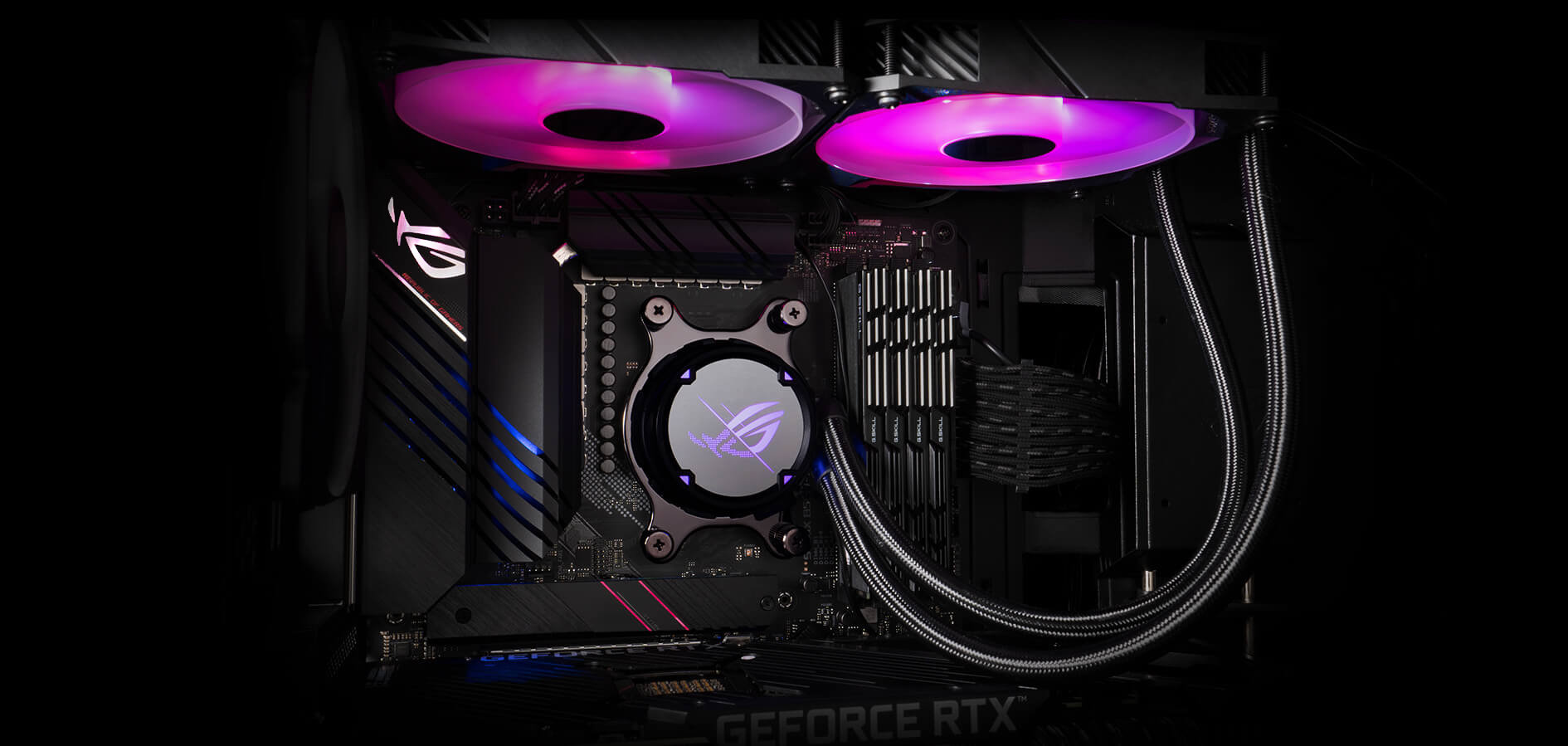 COMPREHENSIVE COMPATIBILITY
ROG Strix LC II series is compatible with a wide range of Intel® and AMD motherboard platforms, giving you the flexibility to pair it with your choice of processor.
It also comes fitted with 380 mm tubing to make mounting and routing easier.
CPU socket support
Intel®
LGA 1700, 1200, 1150, 1151, 1152, 1155, 1156, 2011, 2011-3, 2066
AMD
AM4, TR4*
*The mounting bracket is bundled with a TR4 processor package.
TECHNICAL SPECS
ROG STRIX LC II 280 ARGB
Water Block
Water block dimention:
80 x 80 x 45 mm
Block Material (CPU Plate):
Copper
Pump
Pump Solution:
7th gen Asetek pump
Motor Speed:
840 - 2,800 +/- 300 RPM
Power:
12V DC, 0.3A
Radiator
Radiator Dimension:
143 x 315 x 30 mm
Radiator Material:
Aluminum
Tube:
Sleeved Rubber tube
Tube Length:
380 mm
Fan
Fan:
ROG STRIX FAN MODEL 14 ARGB
- Size:
2 x Fan Slots (140mm)
- Dimension:
140 x 140 x 25.5 mm
- Speed:
700 - 2100 RPM +/- 10%
- Static Pressure:
3.1 mmH2O
- Air Flow:
102.3 CFM
- Noise:
35.7 dB(A)
- Control Mode:
PWM/ DC
Special Features
AURA Sync Support:
Yes
Compatibility
Intel: LGA 1700, 1200, 115x, 2011, 2011-3, 2066
AMD: AM4, TR4*
Package Content
1 x Liquid Cooler (pre-applied thermal compound)
1 x Accessory Pack of Screws and Brackets
2 x 140 mm ARGB Radiator Fan
1 x USB Input Cable
1 x 1-to-4 ARGB Splitter Cable
1 x ROG Sticker
1 x Quick Start Guide
Warranty
6 years
Note
*The mounting bracket is bundled with TR4 CPU Package.